NINE BEATS Collective featuring HEATHERLYN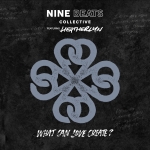 Music: Heatherlyn
Lyrics: Steve Bassett
Duration: 3 mins 24 secs
Taken from the forthcoming album NINE BEATS TO THE BAR by NINE BEATS Collective
HEATHERLYN is part of an international collective of troubadours, poets, rebels, provocateurs, sages, and activists on the trail of the ancient Bible sayings known as 'the Beatitudes'.
A singer/song-artist with soul, roots, and rock vibes infused throughout her songs, Heatherlyn finds home on the road wherever her heart is. Friends and fans have twice awarded her the US Midwest 'People's Choice' of NPR's Mountain Stage NewSong Performance Contest. Heatherlyn features on 5 collaborations on NINE BEATS TO THE BAR, and this track (written with UK lyricist Steve Bassett) showcases her soulful, poetic, honest voice that resonates with people from many varied walks of life. It's a beautiful, stripped back song where Heatherlyn's voice weaves with Tony's rich acoustic guitar tones and a delicious string arrangement from Deborah Pritchard – one of the UK's rising classical music stars.
Across 3 continents, a group of world class musicians, songwriters, artists, theologians, creatives, activists, and storytellers has collaborated on 'Nine Beats to the Bar' – a concept album of music, spoken word, and soundscape that searches for the essence of these 'nine beats'.
Nine Beats to the Bar is a haunting. A cry. A new beat.
________________________
Available on CD, download, & heavyweight 180gsm digitally mastered double vinyl LP
An eclectic soundscape of R&B, soul, rock/pop, acoustic threads, classical, jazz/funk, African vibes, and a hint of gospel. NINE BEATS is a collaboration of world class musicians, artists, and songwriters exploring the ancient wisdom of THE BEATITUDES.
Produced by Tony Bean