NINE BEATS Collective featuring MIKAEL R ANDREASEN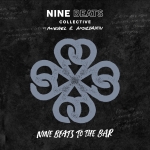 Music: Mikael R Andreasen
Lyrics: Steve Bassett / Mikael R Andreasen
Duration: 2 mins 47 secs
Taken from the forthcoming album NINE BEATS TO THE BAR by NINE BEATS Collective
MIKAEL R ANDREASEN is part of an international collective of troubadours, poets, rebels, provocateurs, sages, and activists on the trail of the ancient Bible sayings known as 'the Beatitudes'.
Mikael is an award-winning composer based in Copenhagen, Denmark, who primarily works under the moniker Kloster (the Danish word for monastery) which at the same time is a solo project, a band, and an ever-growing collective counting more than 50 people: their songs circle around spiritual matters and vocal melodies wrapped in beautiful chords and tones.
Mikael has released six critically acclaimed albums. The latest, 'Half Dream, Half Epiphany', was nominated as album of the year at The Danish Music Awards. At the prestigious Steppeulven music awards (curated by the Association of Danish Music Critics), Mikael won composer of the year in 2016. Now, he adds his talents to the NINE BEATS COLLECTIVE with a track (co-written with UK lyricist Steve Bassett) that features Mikael's trademark layered textures and vocals – augmented by the jagged guitar of Caleb Quaye (former Elton John/Hall & Oates guitarist) to envision a tribe of people exploring the NINE BEATS.
Across 3 continents, a group of world class musicians, songwriters, artists, theologians, creatives, activists, and storytellers has collaborated on 'Nine Beats to the Bar' – a concept album of music, spoken word, and soundscape that searches for the essence of these 'nine beats'. Mikael's unique sound adds rich textures to this project.
Nine Beats to the Bar is a haunting. A cry. A new beat.
________________________
Available on CD, download, & heavyweight 180gsm digitally mastered double vinyl LP
An eclectic soundscape of R&B, soul, rock/pop, acoustic threads, classical, jazz/funk, African vibes, and a hint of gospel. NINE BEATS is a collaboration of world class musicians, artists, and songwriters exploring the ancient wisdom of THE BEATITUDES.
Produced by Tony Bean