NINE BEATS Collective featuring Ambassada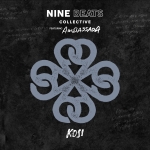 Music: Tony Bean
Lyrics: Ambassada
Duration: 3 mins 01 secs
Taken from the forthcoming album NINE BEATS TO THE BAR by NINE BEATS Collective
AMBASSADA is part of an international collective of troubadours, poets, rebels, provocateurs, sages, and activists on the trail of the ancient Bible sayings known as 'the Beatitudes'.
One of the most prominent artists on the African music scene since his multi-award winning first album, 'Natamani' (2004). His hit single, 'Watoto Ikane' advocated children's rights and led him into humanitarian work (AIDs eradication, G8 summit, etc). It also led to lining up with Black Mambazo, P. Diddy, Yossour N'Dour, amongst others. Further albums like 'Yaka' ranked him as one of East Africa's youngest, best-selling and best performing artists. He became a UN Ambassador to Children in 2010. Today, The Ambassada Foundation works in slums and children's homes around Nairobi. Now based at Monster Studios in Kampala, Uganda, Ambassada is bringing a unique African vibe and voice to the NINE BEATS Collective. This track (co-written with UK songwriter and NINE BEATS producer, Tony Bean) has an irresistible groove and heartfelt vocals from Ambassada that invoke hope from the nine beats for the children of Uganda, Africa and the world.
Across 3 continents, a group of world class musicians, songwriters, artists, theologians, creatives, activists, and storytellers has collaborated on 'Nine Beats to the Bar' – a concept album of music, spoken word, and soundscape that searches for the essence of these 'nine beats'.
Nine Beats to the Bar is a haunting. A cry. A new beat.
________________________
Available on CD, download, & heavyweight 180gsm digitally mastered double vinyl LP
An eclectic soundscape of R&B, soul, rock/pop, acoustic threads, classical, jazz/funk, African vibes, and a hint of gospel. NINE BEATS is a collaboration of world class musicians, artists, and songwriters exploring the ancient wisdom of THE BEATITUDES.
Produced by Tony Bean