NINE BEATS Collective featuring Rev Vince Anderson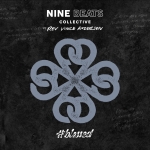 Music: Tony Bean
Lyrics: Vince Anderson
Duration: 4 mins 13 secs
Taken from the forthcoming album NINE BEATS TO THE BAR by NINE BEATS Collective
REV VINCE ANDERSON is part of an international collective of troubadours, poets, rebels, provocateurs, sages, and activists on the trail of the ancient Bible sayings known as 'the Beatitudes'.
A phenomenal live performer, Vince was born in Fresno, California (the raisin capital of the world). He moved to New York City in 1994 to study at Union Theological Seminary with the intention of becoming a Methodist minister. The Reverend lasted 3 months in seminary, before sensing a new direction in music.
'Dirty Gospel' is the term the Rev uses to describe both his musical style and influences, and his theological perspective. He has released 4 albums as well as playing a weekly show in New York City for over 20 years with his Brooklyn based band 'The Love Choir'. He's toured internationally as well as playing with artists such as The Roots, Daniel Johnson, and Melvin Van Peebles. His band includes members of TV on the Radio, Run the Jewels, Nick Waterhouse band, and Burnt Sugar.
Rev Vince is currently setting the book of Psalms to music. He's a real Rev! On this track (co-written with UK songwriter and NINE BEATS producer, Tony Bean), Rev Vince's lyrics are a withering take on Twitter culture and cheap blessing – underpinned by a pounding 'dirty gospel' groove.
Across 3 continents, a group of world class musicians, songwriters, artists, theologians, creatives, activists, and storytellers has collaborated on 'Nine Beats to the Bar' – a concept album of music, spoken word and soundscape that searches for the essence of these 'nine beats'.
Nine Beats to the Bar is a haunting. A cry. A new beat.
________________________
Available on CD, download, & heavyweight 180gsm digitally mastered double vinyl LP
An eclectic soundscape of R&B, soul, rock/pop, acoustic threads, classical, jazz/funk, African vibes, and a hint of gospel. NINE BEATS is a collaboration of world class musicians, artists, and songwriters exploring the ancient wisdom of THE BEATITUDES.
Produced by Tony Bean