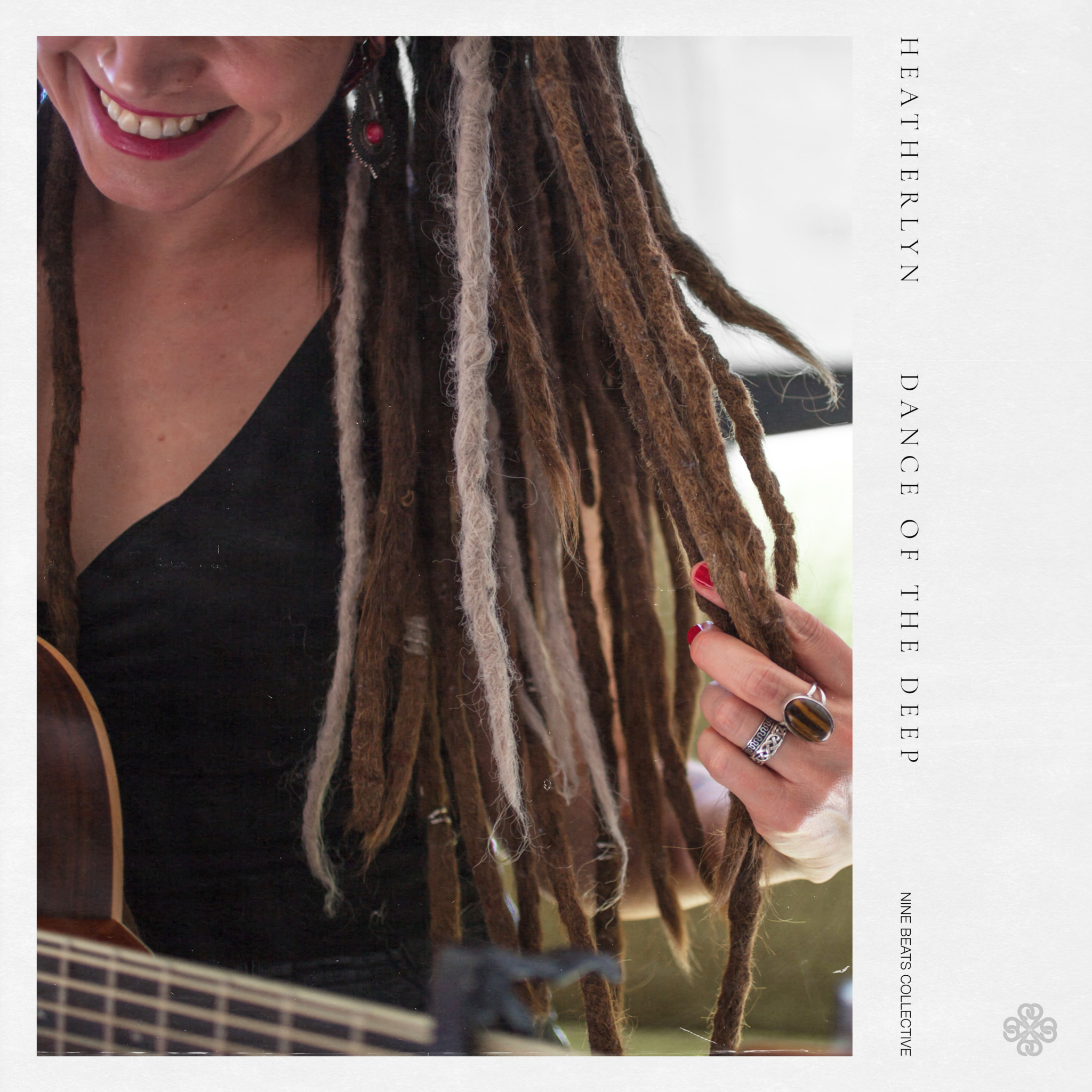 Denver-based artist Heatherlyn returns with an EP from the NINE BEATS Collective stable, 'Dance of the Deep' – a haunting collection of songs to provide soul medicine for these heavy times. The EP launched at the end of 2019, and it is available on worldwide digital platforms (including Amazon, Spotify, iTunes, etc.). You can also download a lyric booklet here.
Equally at home with self-penned or collaborative songs, this time out her new EP is a further collaboration with NINE BEATS Collective, and lyricist, Steve Bassett. Writing and performing together on the NINE BEATS studio album and subsequent tours in the USA and UK, they've since continued writing – these songs being recorded in Denver and San Diego just before lockdown. The tracks were produced and arranged by Heatherlyn's musical 'bestie' and collaborator (and now fellow NINE BEATS alumni), Ben Grace – fresh from his own sensational debut album release.
'Dance of the deep' is released as a NINE BEATS Collective collaboration, to highlight how the Collective – in addition to its core album and project – spins off to an increasingly wide mesh of collabs, and even soon-to-be-revealed other formats. The four-track EP showcases Heatherlyn's captivating vocals and gift for melody: from the haunting Celtic-vibed lament 'When dies the day", to the ethereal ambiance of 'Grace', the whimsical playfulness of 'Paper boat' and the uplifting gospel spirit of 'River', Heatherlyn delivers the songs with a warmth that will wrap around your heart and gently lift your eyes towards hope.
"Losing, loving, lamenting and longing are all around us right now", says Heatherlyn; "we're all in the dance of the deep, and no matter how fragile things seem, the waves of grace and the pull of the tides call us to love more when the waves are highest."
"Heatherlyn is a rare artist who can make the listener feel like the song is sung purely and only to them so that it reaches deep into the heart", explains Steve; "So, our collaborations here are about creating small moments of beauty and hope, to speak stillness and love amidst the chaos. It's what NINE BEATS Collective can do – create collaborations of so many different styles and tastes. We'll do more!"
WATCH NOW: When Dies the Day (lyric video)
BUY NOW: Amazon, Spotify, iTunes
EP released by NINE BEATS through Plankton Records. 
'Dance of the Deep' has already been played across these college radio stations in USA. Here are some below!
| | | |
| --- | --- | --- |
| WGBK | Glenview | Illinois |
| KWLC | Decorah | Iowa |
| AM1700 | Ypsilanti | Michigan |
| BearCast Radio | Cincinnati | Ohio |
| CIUT | Toronto | Ontario |
| CJUM | Winnipeg | Manitoba |
| Clarion Radio | Madison | Wisconsin |
| KALA | Davenport | Iowa |
| KAOS | Olympia | Washington |
| KBBI | Homer | Alaska |
| KDUP | Portland | Oregon |
| KEUL | Girdwood | Arkansa |
| KFAI | Minneapolis | Minnesota |
| KKCR | Hanalei | Hawaii |
| KLCZ | Lewiston | Idaho |
| KMSC | Moorhead | Minnesota |
| KMUD | Redway | California |
| KNON | Dallas | Texas |
| KPFT | Houston | Texas |
| KSLU | St. Louis | Missouri |
| KTUH | Honolulu | Hawaii |
| KURA | Ouray | Colorado |
| KUWS | Superior | Wisconsin |
| KYAC | Mill City | Oregon |
| KZMU | Moab | Utah |
| M3 Radio | Brooklyn | New York |
| WBNY | Buffalo | New York |
| WCXS | Orland Park | Illinois |
| WDUB | Granville | Ohio |
| WERU | East Orland | Maine |
| WFCF | Saint Augustine | Florida |
| WHCL | Clinton | New York |
| WHFR | Dearborn | Michigan |
| WHUS | Storrs | Connecticut |
| WLAS | Newton | Massachusetts. |
| WLOY | Baltimore | Maryland |
| WNIA | Rocky Mount | North Carolina |
| WODU | Norfolk | Virginia |
| WRCU | Hamilton | New York |
| WRUR | Rochester | New York |
| WTCC | Springfield | Massachusetts. |
| WUML | Lowell | Massachusetts. |
| WUTK | Knoxville | Tennessee |
| WVUD | Newark | Delaware |
| WZMB | Greenville | North Carolina |
| CFRC | Kingston | Ontario |