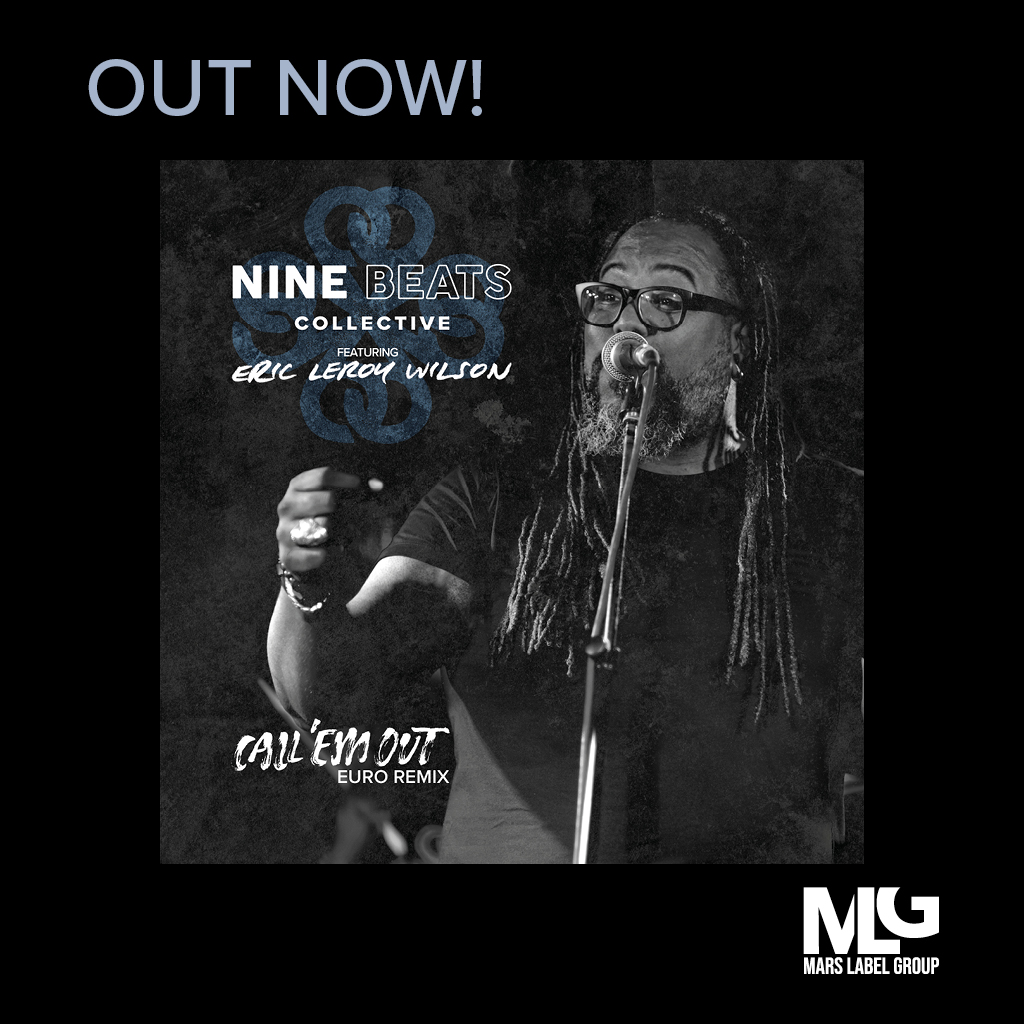 Music: Tony Bean
Lyrics: Eric Leroy Wilson
Duration: 4 mins 39 secs
NINE BEATS Collective ft. Eric Leroy Wilson
Single : https://orcd.co/xoyq2gw
Album: https://orcd.co/ninebeatstothebar
Out now exclusively for Europe, Call 'em Out is an urban tune featuring the spoken word talents of NINE BEATS Collective member, playwright, spoken word artist and m/c, Eric Leroy Wilson. Written and performed by Wilson, with music by MOBO-award winning UK producer Tony Bean, this is a track of originality and substance.
With dynamic music and free verse poetry, Call 'em Out is unpredictable, melodic, with a hard-edged beat.
Against a constantly building, almost mystical pulse, Wilson delivers deep lyrics that channel the revered USA theologian/civil rights activist Howard Thurman. This is music with a message, shards of jazz, R&B, and hip-hop essence pulling the listener in. The unfurling, swirling quality of the track is underpinned by the heart and soul of passionate, emotive spoken word.
Eric performs the track with NINE BEATS COLLECTIVE – an international collaboration of world-class musicians, artists, and songwriters who have come together from different continents, different cities, and different experiences,  exploring the ancient wisdom known as 'the beatitudes'. Malibu-based Wilson wrote the lyrics after of a creative hothouse with other Collective members:
"[One of the] NINE BEATS Collective shared this idea that was just so evocative about calling forth ghosts of those things that need to be woken up in our lives; so I've written a piece that's called Call' em Out which attempts to call out and evoke those ghosts of our better selves that are inside of us."
The original version of Call 'em Out is found on their double album NINE BEATS TO THE BAR. Acclaimed by critics, it is an eclectic soundscape of R&B, soul, rock/pop, acoustic threads, classical, jazz/funk, African vibes, and a hint of gospel. It's a haunting, a cry, a new beat. It's soul, adventure, lament, and rage. It's a love song. And most of all it's a movement.
"An immersive and exquisite listening experience – 10/10" Cross Rhythms
"Beautiful,  hypnotic, and above all – compelling." Indie Music Mag
"One of those albums that simply overflows with creativity." Whisperin' and hollerin'
Album Available on CD, download, & heavyweight 180gsm digitally mastered double vinyl LP
Call 'em Out is released on the M.A.R.S. Label group in Europe in April. This one chimes with the times!
Album Available on CD, download, & heavyweight 180gsm digitally mastered double vinyl LP
Released by M.A.R.S Label Group/Orchard