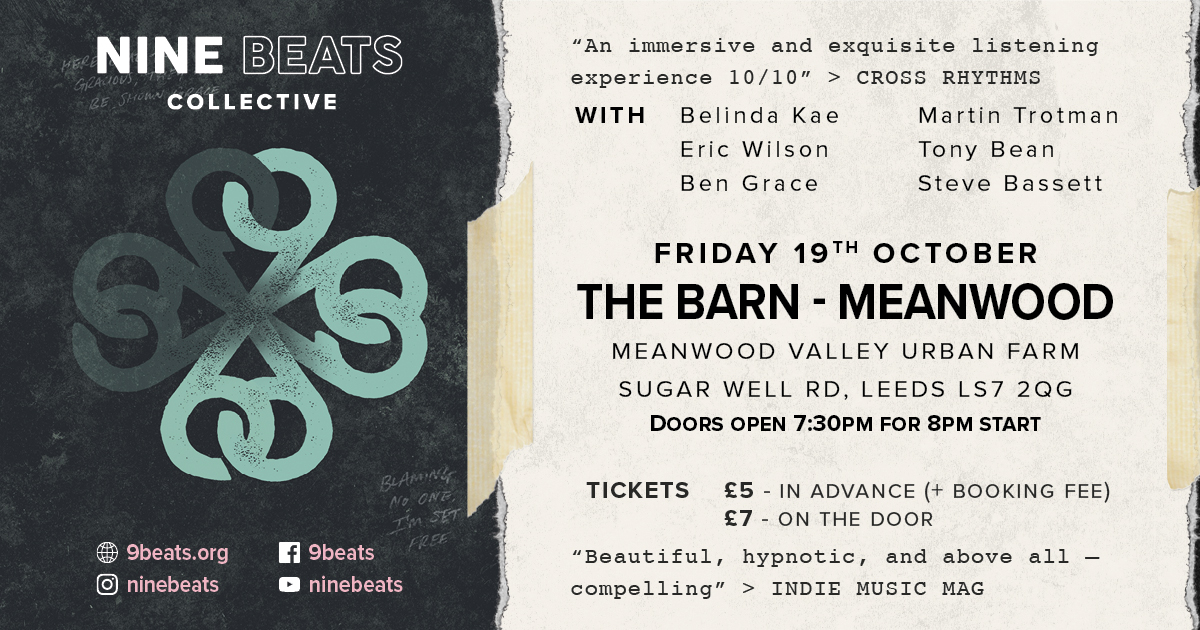 > 19 October 2018 at 7:30pm
> The Barn Coffee Shop, Meanwood Valley Urban Farm, Sugar Well Road, Leeds LS7 2QG
Eventbrite - NINE BEATS at The Barn tickets
Tickets
£5 in advance (+ booking fee) from Eventbrite
£7 on the door
Fresh from the US launch of their critically-acclaimed album, 'Nine Beats to the Bar', NINE BEATS COLLECTIVE are back in the UK with a week of exclusive events. Come and hear amazing artists Ben Grace, Eric Wilson, Belinda Kae, Martin Trotman, Tony Bean & Steve Bassett.
"An immersive and exquisite listening experience 10/10" – Cross Rhythms
The NINE BEATS Collective is an international tribe of troubadours, poets, rebels, provocateurs, sages & activists. The Collective is drawn together from different continents, different cities, and different experiences – all on the trail of the ancient wisdom of the beatitudes.
Gigs will showcase songs from the album 'Nine Beats to the Bar' – an eclectic soundscape of R&B, soul, rock/pop acoustic threads, rock/pop, acoustic threads, classical, jazz/funk, African vibes, and a hint of gospel. NINE BEATS is a haunting, a cry, a new beat. It's soul, adventure, lament, and rage. It's a love song. And most of all it's a movement.
You can listen to the album here – https://spoti.fi/2Q7R1v6
"Beautiful, hypnotic, and above all – compelling" – Indie Music Magazine

"If you can't find something you enjoy in here you're not listening" – Real Music Network

"It will fuel your thoughts for some time to come" – BuzzJack